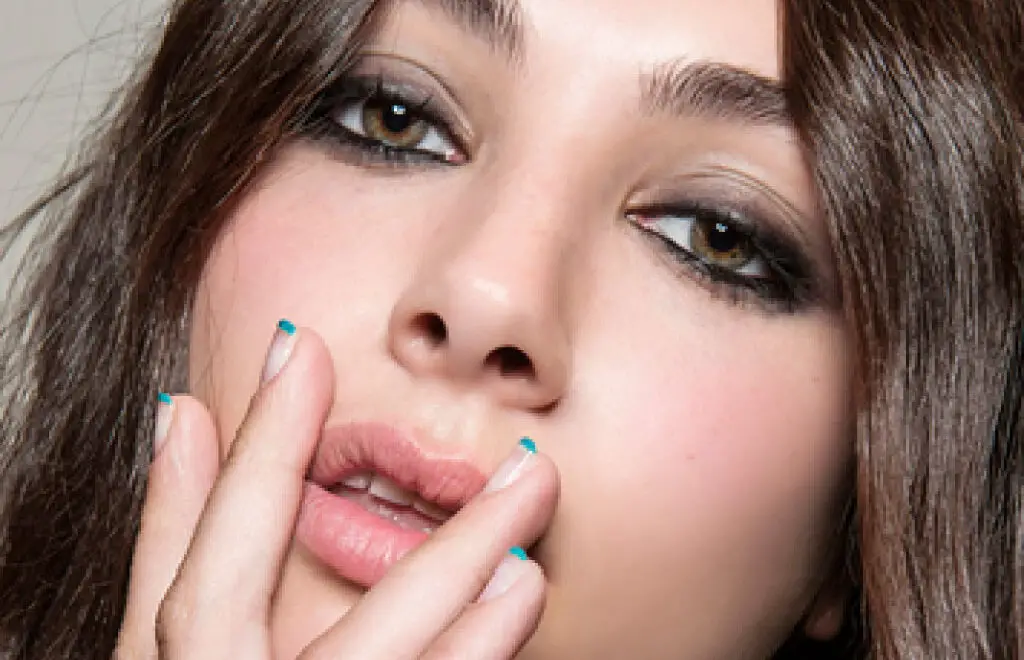 Brassiness isn't something only blondes are dealing with. Where blondes struggle with yellow tones, color-treated brunettes are faced with orange and red tones peeking through after a few washes. Luckily, similar to purple shampoo for blondes, there is blue shampoo for brunettes. Blue shampoo neutralizes the orange tones in brown hair. Are you looking for a blue shampoo that isn't tested on animals? We've got you! We've rounded up the 7 best cruelty-free blue shampoos.
Jump directly to: The 7 Best Cruelty-Free Blue Shampoos.
First, why does my brunette color turns brassy anyway?
The color brown is a mix of every color, including a lot of red. When the hair color gets stripped (by shampooing, sun exposure, heat styling and swimming) the cooler tones tend to dissipate first, which is when the warm undertones start to pop up.
How does blue shampoo work?
Blue shampoo is a color-correcting shampoo containing blue pigments. It works for brunettes the same way purple shampoo works for blondes. Both shampoos cancel out brassy tones by using the opposite color of the color wheel (purple – yellow, blue – orange). It cleanses like a normal shampoo, while it infuses hair with cool-toned pigments to temporarily counteract the warm tones in brown hair.
Red Undertones
If you have a lot of red undertones that you want to get rid of, you need some green (as green is the opposite color of red on the color wheel). Pravana's Brunette Toning Shampoo comes in a blue-green shade which is the best shampoo for dark brunettes with orange and red undertones.
Now, if you have a light or dark brown hue, an all-over brown hair color, balayage or highlights, to keep your brunette color from turning brassy, lather up with one of the cruelty-free blue shampoos below.
Vegan + Cruelty-Free Blue Shampoo
In the beauty industry, 'cruelty-free' only refers to animal testing. However, the way that many animal ingredients are obtained is simply cruel too, which is why we can image you want to buy products that are cruelty-free as well as vegan. If you're in the market for a cruelty-free and vegan blue shampoo, this list offers you 5 options.

Index

The 7 Best Cruelty-Free Blue Shampoos for Brunettes


All products featured on beauty.beyond.cruelty are independently selected. If you buy something through our retail links, we may earn an affiliate commission (at no additional cost to you). See our affiliate disclosure for more information.



1/7
Best for Light to Medium Brunettes:


2/7
Best Budget Cruelty-Free Blue Shampoo:


3/7
Best Cruelty-Free Blue Shampoo for Dark Brunettes:


4/7
Cult-Favorite:


5/7
Best Cruelty-Free Blue Shampoo for Damaged Hair:


6/7
Best Blue Shampoo for Curly Hair:


7/7
Best Drugstore:


FAQ
How to apply blue shampoo?
Blue shampoo can be applied like your regular shampoo, but with a few things to keep in mind:
Some blue shampoos are so highly pigmented they call for using gloves to prevent your hands and nails from turning blue
The longer you leave blue shampoo on, the more toning power. Alway read the instructions of the specific shampoo
Most blue shampoos can be used 2 to 3 days a week, but since the blue pigment can cause dryness, we recommend to not use shampoo more than needed.
What else we can do to maintain our cool color:
Shampoo less. To extend time between washes, use dry shampoo
If you don't need to shampoo with blue shampoo, wash your hair with a shampoo for color-treated hair or a sulfate-free shampoo, which is less damaging than traditional shampoo and won't strip your hair color
Always follow with conditioner, as color dissipates quicker in dry and damaged hair
Wear a hat when you're out in the sun
Does blue shampoo work on natural brunette hair?
Color-treated brunettes will benefit the most from using blue shampoo, because the hair cuticles of color-treated hair is more expanded and therefor the blue pigment will absorb better. That said, blue shampoo can also tone natural brunettes, but they should use it more often and leave it on a little longer.

More Cruelty-Free Hair: