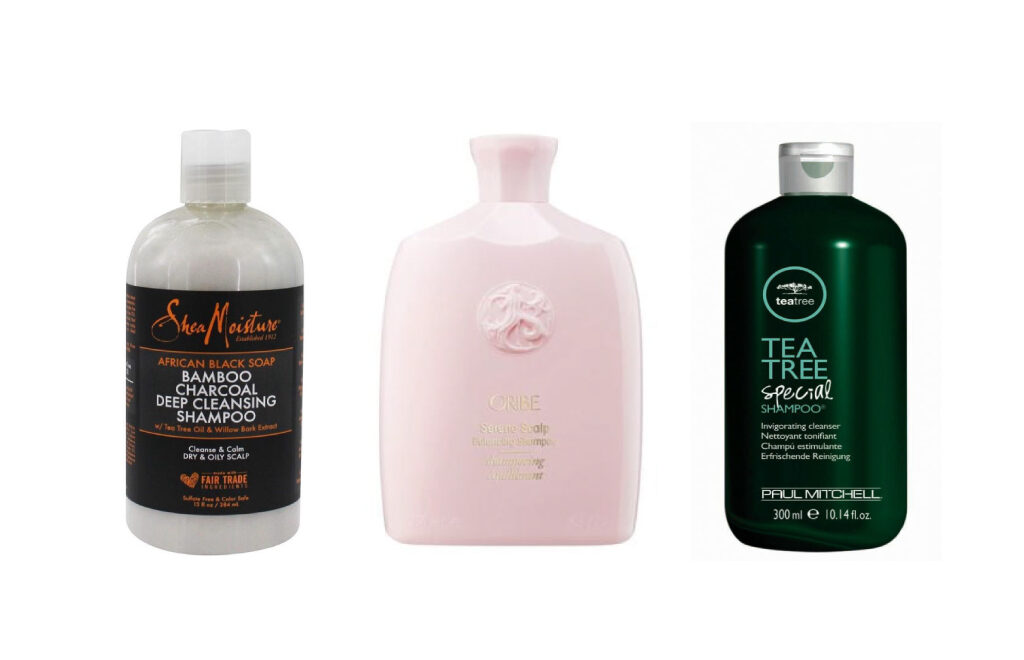 Itching scalps, white flakes in your hair and on your clothes, dandruff is no fun. If you are dealing with dandruff, know you aren't alone. Dandruff is a very common condition. In fact, one out of two people experiences dandruff at some point in their lives. Although dandruff isn't curable, there are ways to keep the symptoms under control. One of the best ways is washing your hair with an anti-dandruff shampoo. If you are looking for a cruelty-free dandruff shampoo, you have come to the right place. We searched for the best cruelty-free shampoos for dandruff-prone hair. Below you find the 11 results, with 7 vegan options. But first some background information about dandruff.

Jump to: the best cruelty-free dandruff shampoos.
What Is Dandruff
Dandruff is a skin condition where skin cells on your scalp shed more quickly than usual, which results in flakes and an itchy scalp. 
What Causes dandruff
Dandruff can have many causes, such as a dry scalp or an allergic reaction. Most commonly though, dandruff appears from a condition called Seborrheic Dermatitis. Seborrheic Dermatitis is caused by a certain yeast that lives on our scalps. Don't panic – this harmless yeast, which name is Malassezia, is part of our natural skin flora and is supposed to be there. However, those with Seborrheic Dermatitis experience an overgrow of this yeast. The body respons to this by shedding skin cells faster than usual, resulting in a buildup of flakes, redness and itchiness. 
Oil
Important to know is that the yeast that feeds on – and can only live in – oil. Therefor it is key to keep your scalp excess oil-free. This is where the misconception about dandruff lies, since many people think that it is dry skin that causes the dandruff. They wash their hair less frequently to treat the dryness and sometimes even put oil on their scalp to hydrate. This is however the exact opposite of how to treat dandruff. 
Triggers
A common trigger that worsen dandruff is stress. Stress can cause an overproduction of oil, which promotes the overgrow of yeast. It is also thought that hormonal fluctuations and certain foods such as dairy, sugar and spicy food can potentially trigger dandruff. 
How To Treat Dandruff
Dandruff isn't curable, it is all about controlling the symptoms. The best way to do that is with an anti-dandruff shampoo. 

Anti-dandruff shampoo contain anti-fungal ingredients that reduce yeast production and keep our skin from overproducing oil. Active ingredients to control dandruff are: Zinc Pyrithione, Selenium Sulfide, Ketoconazole, Salicylic Acid, Sulfur and Tea Tree Oil.

There is no ingredient that works best for everyone so it might take some trial-and-error to figure out what ingredient works for your dandruff.
Ahead, the 11 best cruelty-free dandruff shampoos and 9 other tips to manage dandruff.
Vegan
In the beauty industry, 'cruelty-free' only refers to animal testing. However, the way that many animal ingredients are obtained is simply cruel, which is why it's best to buy cruelty-free products that are also vegan.  
If you are in the market for a cruelty-free and vegan dandruff shampoo, you have 7 options to choose from.
Index

The 11 Best Cruelty-Free Dandruff Shampoos of All Time (including 7 vegan)

All products featured on beauty.beyond.cruelty are independently selected. If you buy something through our retail links, we may earn an affiliate commission (at no additional cost to you). See our affiliate disclosure for more information.



1/11
Best overall:


2/11
Best value:


3/11
Best looks:


4/11
For a spa moment:


5/11
Best for color-treated hair:


6/11
Best-smelling:


7/11
Best balancing:


8/11
Best deep-cleanse: 


9/11
Best natural:


10/11
Best for dry hair:


11/11
Best scalp exfoliator:



9 Other Tips To Keep The Flakes Away
Wash your hair on a daily basis to reduce the amount of excess oil on the scalp and remove dead skin cells
When washing with dandruff shampoo focus on the scalp and let it sit for a couple of minutes for the product to work optimally.
Make sure to rinse out all shampoo, to avoid product buildup
If your dandruff seems to have diminished, you can alternate with a regular shampoo. Do keep your dandruff shampoo in the rotation, to prevent dandruff from making its return
Avoid shampoos with sulfates SLS and SLES
Use a clarifying shampoo once a week, such as Shea Moisture's Deep Cleansing Shampoo, to eliminate any remaining product buildup and excess oil.
Exfoliate your scalp once a week to deeply cleanse the hair and lift away any remaining dead skin cells. Widely-loved cruelty-free scalp scrubs are Brigeo's Scalp Revival Charcoal + Coconut Oil Micro-Exfoliating Shampoo and Christophe Robin's Purifying Scrub with Sea Salt
Cut back on the styling products to avoid buildup. If you really can't live without your curl cream or salt spray, make sure to wash your hair daily. 
Dandruff shampoo can have a drying effect on your hair, so have your conditioner or hair mask ready. Make sure to apply it on your ends only and rinse it all out.


More Cruelty-Free Hair Care: