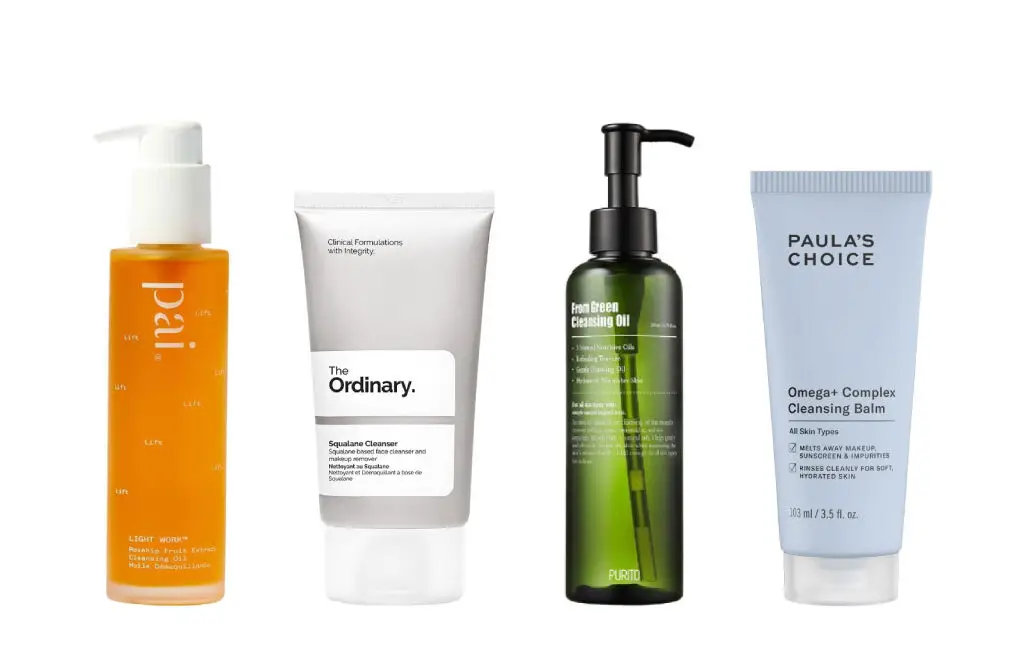 Looking for a cleansing oil that's free of animal testing as well as animal ingredients? You've come to the right place! We searched for the best vegan + cruelty-free cleansing oils of 2022.
Cleansing oil is used as the first step in a double-cleanse and effortlessly melts away, makeup, sunscreen and other impurities.
Double-Cleansing
What is double-cleansing you ask? It's as simple as it sounds.
It's washing your face twice, with two different types of cleansers, one right after the other.
Generally, this involves an oil-based cleanser, followed up by your regular (water-based) face wash.
The concept behind this is that oil-cleansers break up makeup, sunscreen, and excess oil from the skin and clear the way for your regular cleanser. The result is ultra-clean skin.
Read on for the best vegan + cruelty-free cleansing oils.
6 Benefits Of Using An Oil Cleanser
Oil cleansers are non-stripping and non-drying, as opposed to regular (soapy) cleansers
It effortlessly dissolves makeup, SPF, dirt and excess oil. the reason behind this is that oil dissolves oil. Makeup, sunscreen and skincare are generally oil-based, which is why it's way easier to remove with an oil-based cleanser than a regular (water-based) cleanser
Oil cleanser leaves skin ultra-clean, allowing skincare to better penetrate the skin and work its magic
It balances skin and regulates oil production. Traditional cleansers can cause dryness which can ultimately result in overproducing oil
It leaves skin soft, hydrated and nourished
Oil cleansers are gentle on the skin
Index

The 10 Best Vegan + Cruelty-Free Cleansing Oils & Balms
All products featured on beauty.beyond.cruelty are independently selected. If you buy something through our retail links, we may earn an affiliate commission (at no additional cost to you). See our affiliate disclosure for more information.


1/10
Best All-Round:


2/10
Best Value:


3/10
Best Cleansing Oil For Dry and Sensitive Skin:


4/10
Best Cruelty-Free + Vegan Cleansing Balm:


5/10
Best For Combination To Oily Skin:

RELATED: The Best Cruelty-Free + Vegan Gel Moisturizers



6/10
Best For Dry And Sensitive Skin:


7/10
Best Exfoliating Oil Cleanser:

RELATED: The Best Cruelty-Free Face Exfoliators


8/10
Best For Dry To Normal Skin:


9/10
Best Smelling:


10/10
Best Gentle Cleansing Oil:
FAQ
When Use Cleansing Oil?
Cleansing oils are typically used at night as the first step in a double cleanse to wash away impurities that accumulated on your face during the day.
What Skin Type Is Oil-Cleansing For?
When it comes to skin type, oil cleansers are a universally friendly product, with formulas made for dry, normal and even oily, and acne-prone skin. When you have oily skin, we understand that washing your face with oil may feel counterintuitive but fear not. An oil cleanser can actually help oily skin as cleansing oils purify the skin without stripping it from its natural oils and hydration, unlike regular foaming cleansers which usually contain higher levels of surfactants that are more stripping to the skin. Ultimately, stripped skin can lead the skin to overproduce oil to compensate for the dryness. Also sensitive skin can benefit from a cleansing oil, as they tend to be more gentle on the skin than a regular cleanser. As oil cleansers are able to melt away even the most stubborn makeup much better than a water-based cleanser, you're less likely to upset your sensitive skin.
How To Use Cleansing Oil?
Pump cleansing oil on dry hand
Apply cleansing oil to dry skin and gently massage
Add a little water (this will make the oil emulsify and break down makeup and oils) and massage your face for a minute or 2
Rinse thoroughly with lukewarm water or wipe away with a washing cloth
Follow with a water-based cleanser
What Is The Difference Between Cruelty-Free and Vegan?
Cruelty-free means a product and its ingredients haven't been tested on animals. Vegan means a product doesn't contain animal-derived ingredients. A product can be cruelty-free and not vegan as well a product can be vegan and not cruelty-free. The products in this article are all cruelty-free and vegan.