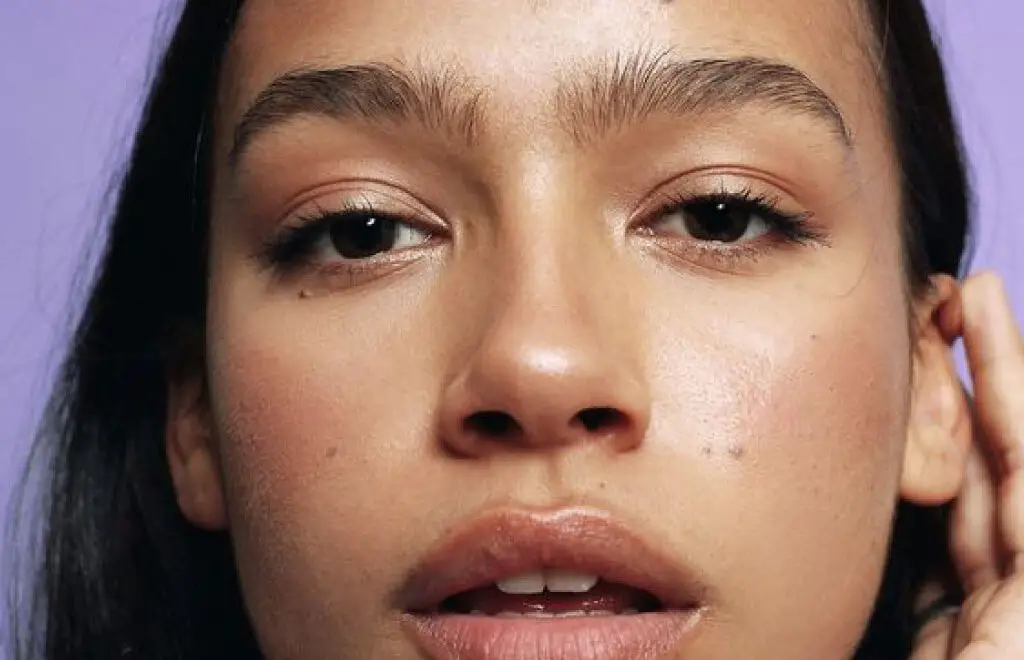 If you're looking for an anti-aging skincare product, a serum is your best bet. Since you're here you probably want your serum to be cruelty-free. Luckily, there's a world of options out there, and we've selected the 16 best cruelty-free face serums for aging skin that are on the market right now.
What Is A Face Serum?
But what exactly is a face serum, you ask? A serum is a liquid formula containing powerful ingredients to target specific skin concerns. Unlike moisturizing creams, serums are made with fewer fillers and with higher concentrations of active ingredients. Also, serums are thinner in texture and formulated in a way so they can penetrate deeper into the skin.
What Face Serum Do I Need?
There are lot of serums on the market, so how to choose the right one? First, it is important to know your skin type and what skin concern you want to target.

For all skin types (including oily) hydration is key. When our skin is hydrated it's better capable of repairing itself, meaning it also helps to prevent early signs of aging. If you're in the market for a hydrating serum, hyaluronic acid is your key ingredient.

If you're looking for something to really target fine lines, wrinkles and sagging, you need something that will boost our collagen production. Collagen is a protein that naturally occurs in our body. It is tied to our skin's firmness and elasticity. As we age, the collagen production starts to decrease which in turn can lead to premature aging.

To keep your skin young and plump, serums of which their main ingredients are retinol, peptides and vitamin C are your best options, as they're known to stimulate collagen production and thereby increasing skin's firmness.

Another exciting skincare ingredient is niacinamide, which has a plethora of skincare benefits including hydration, brightening as well as preventing signs of aging.

Now you know what ingredients to look for, enter the 16 best cruelty-free anti-aging face serums.
In This Article

The 16 Best Cruelty-Free Face Serums for Aging Skin
All products featured on beauty.beyond.cruelty are independently selected. If you buy something through our retail links, we may earn an affiliate commission (at no additional cost to you). See our affiliate disclosure for more information.

Price Guide
$ = 15 usd and under
$$ = 15 usd to 30 usd
$$$ = 30 usd to 60 usd
$$$$ = 60 usd and above

Best Cruelty-Free Retinol Serums:

Retinol (aka vitamin A) is one of the most proven skincare ingredients to diminish signs of aging like fine lines and wrinkles. Retinol stimulates cell turnover, thereby boosting collagen production to increase skin's firmness and elasticity.

The only downside to this magical ingredient, is that it can be drying and irritating to the skin (especially when your skin is already dry/sensitive). With retinol it is thereby important to start with a low concentration of the ingredient and slowly work your way up.

Another way is to go for a retinol alternative like granactive retinoid or backuchiol. Granactive retinoid is an advanced form of retinoid without any risk of dryness and irritation. Backuchiol is the gentle, natural alternative to retinol. It's a plant extract that functions similar to retinol, stimulating collagen growth and thereby reducing signs of aging.

GOOD TO KNOW: Retinol makes our skin more sun-sensitive, so it's important to apply retinol at night and wear sunscreen during the day.

1/
Versed – Press Restart Gentle Retinol Serum

2/
Paula's Choice – 1% Retinol Treatment

3/
The Ordinary –  Granactive Retinoid 2% in Squalane

4/
Kate Somerville – +Retinol Vita C Power Serum

5/
Acure – Radically Rejuvenating Dual Phase Bakuchiol Serum

Best Cruelty-Free Peptide Serums

For those looking for anti-aging benefits as well as hydration, peptides are what you need. Whereas retinol can be drying to the skin, peptides are actually moisturizing. Peptides occur naturally in our skin and are building blocks of proteins like collagen, elastin and hyaluronic acid. Peptides serums stimulate collagen production, improve skin's elasticity and maintain skin's moisture levels.

6/
The Inkey List – Collagen Booster

7/
Derma E – Advanced Peptide & Collagen Serum

8/
Drunk Elephant – Protini Powerpeptide Resurfacing Serum

9/
Peach & Lily – Glass Skin Refining Serum

Best Cruelty-Free Hyaluronic Acid Serums:

Hyaluronic Acid (HA) is a molecule that occurs naturally in our skin and is responsible for hydrating. As we age, our bodies produce less hyaluronic acid which is why our skin becomes dehydrated more easily.

This is where the hero skincare ingredient that is hyaluronic acid comes in. HA not only helps to hydrate the skin, it also attracts hydration, keeping your skin moisturized throughout the day. And when skin is sufficiently hydrated, fine lines and wrinkles seem to diminish and skin looks healthy and plump.

Hyaluronic acid is suitable for all skin types, including sensitive, oily and acne-prone.

GOOD TO KNOW: As hyaluronic acid needs water to work its magic, it is best used on damp skin and under your moisturizer.

10/
The Ordinary – Hyaluronic Acid 2% + B5

11/
Dr. Dennis Gross – Hyaluronic Marine Hydration Booster

12/
Glossier – Super Bounce

Best Cruelty-Free Vitamin C Serums

Vitamin C is one of the best anti-aging skincare ingredients on the market. The powerful antioxidant not only protects the skin against damage, but also smooths out fine lines by hydrating and promoting collagen production.

And the benefits don't stop there. The superstar ingredient brightens and fades darks spots and pigmentation. What's more, its anti-inflammatory properties help to reduce redness, which in turn creates a more even complexion.

In other words, Vitamin C is the key to a bright and tight complexion.

13/
Tatcha – Violet C Brightening Serum 20% Vitamin C + 10% AHA


R E L A T E D: The Best Cruelty-Free Face Exfoliators

14/
Truskin – Vitamin C Serum

15/
Sunday Riley – C.E.O. 15% Vitamin C Brightening Serum

Best Cruelty-Free Niacinamide Serum:
With a plethora of benefits, niacinamide (aka vitamin B3) is another exciting and all-round skincare ingredient.

Niacinamide hydrates, brightens and due to its powerful antioxidant properties it prevents premature signs of aging like fine lines and discoloration. It also helps build collagen to keep skin firm.

What's more, it helps to visibly tighten pores and thanks to its anti-inflammatory and oil-regulating properties niacinamide is a good choice for those with acne-prone skin too.

16/
The Ordinary – Niacinamide 10% + 1% Zinc


FAQ
How To Apply Face Serum?
Face serum is best applied immediately after cleansing – while your face is still a little damp – and before your moisturizer. And don't forget your neck!
What Is The Difference Between Vegan And Cruelty-Free?
Cruelty-free means a product and its ingredients haven't been tested on animals. Vegan means a product doesn't contain animal-derived ingredients. A product can be cruelty-free and not vegan as well a product can be vegan and not cruelty-free.

More Cruelty-Free Skincare